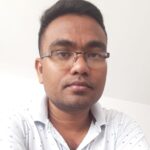 About Candidate
I am Sambit Maiti from India. I have 1 year of experience as a warehouse worker. Loaded & unloaded trucks veifying incoming & outgoing shipments for accuracy & completeness. Also Packing, picking  & inventory handling & maintained high level of cleanliness in workplace.
Location
Education
H
Higher Secondary Education
2011
Ujan Haripada High School
Work & Experience
C
Construction Worker
March 1, 2012 - November 1, 2017
Rotary Eng Pvt Ltd ( Singapore )
Pipe cutting, grinding, loading & unloading materials, also manually lifting, materials handling, use construction equipments & tools for as the job instructions, safe & clean work area, etc.
C
Construction worker/ kitchen helper
April 1, 2021 - July 1, 2022
Gopro Infrastructure Srl ( Romania )
Loading & Unloading goods & safly lifting, Store keeper, Daily report if any tools damaged or any new tools needed, Cutting vegetables, dish wash, cleaning all cooking instruments including grill & oven.
W
Warehouse Worker
September 1, 2022 - December 1, 2023
Loading & unloading goods, preparing for shipments, packeging products, manage inventory by incoming & outgoing products, etc.